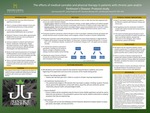 Faculty Advisor(s)
Maureen Pascal
Abstract
Background. There is limited research exploring how physical therapy coupled with medical cannabis use in patients with chronic pain and/or Parkinson's disease can improve function and affect life satisfaction among patients.
Objectives. The purpose of this study is to determine the effects of medical cannabis coupled with skilled physical therapy in patients with Parkinson's disease and/or chronic pain.
Design. This would be a randomized experimental study containing 4 separate subject groups: medical cannabis and chronic pain, no cannabis and chronic pain, medical cannabis and Parkinson's disease, no cannabis and Parkinson's disease.
Setting. Misericordia University Pro Bono Clinic, Dallas, PA
Participants. Researchers would recruit a total of 80 subjects, 40 with chronic pain and 40 with Parkinson's disease. All participants would have a legal prescription for medical cannabis in the state of Pennsylvania.
Intervention. PT interventions may include, but are not limited to: exercises to work on balance, strength or flexibility, mobility training and manual therapy. Interventions would vary based on the subjects' needs and presentation.
Measurements. The outcomes measures used in this study would be The Numeric Pain Rating scale, Life Satisfaction Questionnaire-11, postural assessment using the Posture Screen Mobile application, and the gait parameters measured on the Zeno electronic walkway.
Limitations. Perceived safety of subjects, small sample size, lack of current research in this realm.
Conclusion. Researchers believe this research to be vital and important to the realms of physical therapy, medical cannabis, chronic pain and Parkinson's disease and hope it can be carried out by future researchers.
Department
Physical Therapy
Keywords
Parkinson's Disease, Chronic Pain, Medical Cannabis, Physical Therapy
Disciplines
Medicine and Health Sciences
Recommended Citation
Kocovsky, Jake SPT; Pedersen, James SPT; Winslow, Brandon SPT; and Pascal, Maureen PT, DPT, NCS, "The Effects of Medical Cannabis and Physical Therapy in Patients with Chronic Pain and/or Parkinson's Disease: Protocol Study" (2020). Student Research Poster Presentations 2020. 56.
https://digitalcommons.misericordia.edu/research_posters2020/56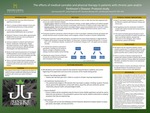 Included in
COinS