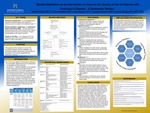 Faculty Advisor(s)
Laurie Brogan
Abstract
Abstract:
Background: One of the main aspects of Parkinson's disease is its neuropathic degeneration and its destruction on the person's mind and body connection. Mindful meditation is the practice of self -awareness and has been shown to cause a reduction in non-motor symptoms such as decreasing blood pressure, treating heart disease, relieving stress, and reducing chronic pain. These changes can lead to perceived improvement in the patient's quality of life. If there is the possibility for psychological changes in the body, then there may be potential in using it to treat neuropathic degenerative diseases without the harmful side effects of pharmacologic interventions and invasive procedures. The purpose of this review is to look at the connection between mindfulness based interventions and its effect on the quality of life of those diagnosed with Parkinson's Disease.
Methods: A systematic review was performed using 5 electronic databases which were Pedro, Google Scholar, CINAHL complete, Chronin library, and PubMed between August 28, 2019 to September 12, 2019 and from January 14 to February 9, 2020. The search terms used were Mindful meditation, Parkinson's, Parkinson's disease, Mindful Based Intervention, Quality of Life. Inclusion criteria for the search were specific focus on QoL changes in patients with PD, included a mindful based intervention, and utilized a quality of life standardized outcome measure/qualitative measures.
Results: After all inclusion and exclusion criteria were applied, seven articles remained and were reviewed. Of the 7 articles chosen for review, there was one pilot study (Cash 2015, ), two randomized control trial studies (Picket 2015, Advocat 2016), a mixed methods evaluation (Birtwell 2017), a qualitative analysis (Fitzpatrick 2010), an exploratory study (Dissanayaka 2016), and a Quasi experiment (Son, 2018).
Conclusion: Mindfulness based interventions can benefit people who have Parkinson's Disease with the reduction of the progression of non-motor symptoms. Short, daily interventions can be a more realistic and effective way to perform mindfulness as compared to long duration sessions due to fatigue and multiple other factors.
Implications: Mindfulness based interventions can be used along with other treatments to help to reduce the progression of non-motor symptoms with patients who have Parkinson's Disease. In some cases mindfulness based interventions can help to prolong the need for invasive procedures, while possibly improving the quality of life of patients who have Parkinson's Disease.
Key terms: Mindful meditation, Parkinson's disease, Quality of life, mindfulness based interventions, PD
Department
Physical Therapy
Keywords
Mindful meditation, Parkinson's disease, Quality of life
Disciplines
Medicine and Health Sciences
Recommended Citation
Peiser, Sarah; Hunyara, Tyler; Reese, Kyle; Grzech, Joseph; and Brogan, Laurie, "Mindful Meditation as an Intervention to Improve the Quality of Life in Patients with Parkinson's Disease: A Systematic Review" (2020). Student Research Poster Presentations 2020. 60.
https://digitalcommons.misericordia.edu/research_posters2020/60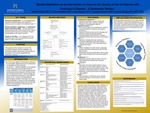 Included in
COinS