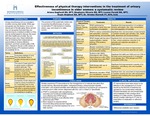 Faculty Advisor(s)
Kristen Karnish
Files
Abstract
Background: Urinary incontinence (UI) is a prevalent condition among older adults. While age and gender are risk factors, UI is not a natural part of female aging. By not seeking proper care, these individuals may be hindering their independence, opportunities to receive effective treatment, and their overall quality of life. Research shows a wide variety of physical therapy (PT) treatment options are available for UI.
Purpose: The purpose of this systematic review was to examine the effectiveness of various conservative PT interventions in treating stress, urge, and mixed UI in older women.
Methods: Two searches of the literature were performed in September 2019 and February 2020. All articles were analyzed for quality on the PEDro scale and a hierarchy of evidence scale. Studies that examined stress, urge, and mixed UI were evaluated.
Results: Sixteen articles were included in the results. Dependent variables included instruments, such as questionnaires, scales, and/or bladder diaries, that measured outcomes of UI symptoms.
Conclusion: Studies examining PT interventions for the management of UI generally found that pelvic floor muscle training, electrical stimulation, behavioral therapy, extracorporeal magnetic innervation, and physical activities were effective in reducing UI symptoms.
Implications: PT interventions have been shown to be effective in the management of UI and should be the first line of treatment as opposed to non-conservative methods. Physical therapists can and should apply this knowledge in their practice when treating UI in older women. Physicians should consider referring to PT prior to prescription of medication or referral to surgery.
Department
Physical Therapy
Keywords
Urinary incontinence, older women, physical therapy, physiotherapy, treatment
Disciplines
Medicine and Health Sciences
Recommended Citation
Gagliardi, Ariana; Paretti, Lauren; Stephani, Kayla; and Oliverio, Stephanie, "Effectiveness of physical therapy interventions in the treatment of urinary incontinence in older women: a systematic review" (2020). Student Research Poster Presentations 2020. 68.
https://digitalcommons.misericordia.edu/research_posters2020/68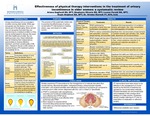 Included in
COinS