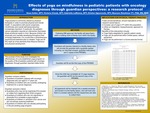 Faculty Advisor(s)
Maureen Rinehimer
Abstract
Abstract:
Background: Yoga practice is commonly utilized by physical therapists in order to promote physical and mental health. In populations with a poorer prognosis, mindfulness and overall well-being becomes increasingly important. In particular, the pediatric cancer population requires an intervention that keeps these emotional needs in mind. Because children are physically and mentally developing throughout their oncology treatments, it is crucial that a comprehensive psychosocial treatment plan is initiated. Yoga can fill this need as it has elements that influence behavior and physical development.
Objective: The aim of this protocol paper is to determine all necessary procedures for future implementation at an institution with a pre-establish yoga program. We anticipate that by analyzing the pre and post intervention PROMIS Parent Proxies, we will discover evidence of a correlation between yoga and a decrease in negative behaviors.
Participants: Participants are eligible for this study if they are the guardian(s) of a child with an oncologic diagnosis between the ages of 5-17. Inclusion criteria comprises guardians of children who are currently undergoing treatment for a cancer diagnosis. Guardians will be excluded from this study if they are not cognitively fit to answer questions regarding their child's program, if their child is not physically or cognitively able to participate in the yoga program, if their child is in remission and not actively receiving treatment, and if their child is already participating in the pre-existing yoga program.
Methods: In order to assess the relationship between yoga and its potential influence on a child's behavior, we are proposing a study that would investigate how yoga would affect the behavior in children with cancer diagnoses. In order to accomplish this, researchers will analyze the guardian's assessment of their child through the use of the PROMIS Parent Proxy Item Bank. Participants in this study will be recruited through a convenience sampling method and followed over the course of 10 yoga sessions. Parents will complete the PROMIS survey before and following the completion their yoga program. An institution must have a pre-established yoga program in order to follow this protocol. The institution may also need to seek IRB approval prior to initiation. Flyers will be placed in a waiting room of the facility to recruit participants. The guardians will express interest to a facility liaison who will give the guardians an information packet including: a letter to the guardian, informed consent form, and survey.
Clinical Relevance: This study would be important clinically because it would allow for researchers to further explore the connection between mind and body wellness in an at-risk population. By assessing how children with oncologic diagnosis handle a yoga program, we can hopefully continue to implement it as an intervention and therefore increase mental health and wellbeing.
Department
Physical Therapy
Keywords
pediatrics, yoga, oncology
Disciplines
Alternative and Complementary Medicine | Medicine and Health Sciences | Movement and Mind-Body Therapies | Other Rehabilitation and Therapy | Physical Therapy | Physiotherapy
Recommended Citation
Ciszak, Victoria; Cutler, Dana; LaManna, Gabriella; and Ogonowski, Kristen, "Effects of Yoga on Mindfulness in Pediatric Patients with Oncology Diagnoses through Guardian Perspectives: A Research Protocol" (2020). Student Research Poster Presentations 2020. 75.
https://digitalcommons.misericordia.edu/research_posters2020/75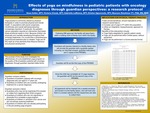 COinS