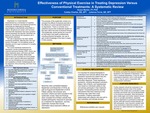 Faculty Advisor(s)
Susan Barker
Abstract
Purpose: This systematic review was done to compare the effects of physical exercise on depression versus the standard treatments most patients who are diagnosed with depression receive, which includes antidepressant medication and cognitive behavioral therapy. There is not currently a collective source that summarizes the various studies on this topic within the physical therapy world. Our article compiles relevant information that supports physical exercise as an alternative treatment for individuals who have been diagnosed with depression. We sampled randomized control studies and prospective cohort studies for data and results, and systematic reviews for supporting information. Our research will be a source that others can use to gain a broad knowledge on the topic and it can be used by many health professionals/disciplines for the application of a well rounded treatment plan for individuals who have a diagnosis of depression.
Methods: Searches were completed between September and December of 2018, as well as August and September of 2019. The databases used included eBook Collection, CINAHL Complete, MEDLINE, Academic Search Complete, PsycINFO, and PsycARTICLES. A combination of search terms regarding exercise and depression were used to yield results.
Results: Fifteen articles met inclusion and exclusion criteria and were included in the systematic review. Data and findings were compiled from thirteen articles that studied participants' response to exercise as a treatment for depression, and two systematic reviews that include information about exercise's effects on depression. Pedro scores ranged from three to eight. Most articles used the Hamilton Rating Scale for Depression (HAM-D) and/or Beck Depression Inventory (BDI) for their data collection means.
Discussion: The results of the studies included in our research support exercise as a treatment for depression that can be just as effective as the current standard treatment. Some results showed that the use of exercise would be best used in conjunction with conventional psychotherapy methods and antidepressant medications, particularly in those individuals with major depressive disorder. Individuals with less severe forms of depression may be able to use exercise as their only form of treatment. Various types of exercise were found to be successful in reducing depressive symptoms. Aerobic exercise and stretching were both effective, and although group exercise had additional benefits, exercising alone was also beneficial. It is important for physical therapists to understand how exercise affects those with depression because any patient they are treating could have depression as a secondary diagnosis, and incorporating aerobic exercise interventions that have meaning to that individual may make them more successful. Further research should be conducted within the United States because most of the studies included in this research were performed in different countries. Most participants were middle aged, and further research should focus on younger populations, especially with the increased incidence of depression in teenagers and young adults. Additional long term studies need to be conducted in order to if it is plausible for exercise to be a prescribed method of treating depression in the future.
Conclusion: The results of all fifteen articles included in this systematic review conclude that exercise can be beneficial in the treatment of depression, whether used as a stand alone treatment or as an adjunctive treatment in those with more severe cases of depression. Further research should be conducted in order to continue to explore this topic, specifically the long term effects exercise can have on those with various types of depression.
Department
Physical Therapy
Keywords
exercise, aerobic exercise, physical exercise, depression, antidepressants
Disciplines
Alternative and Complementary Medicine | Medicine and Health Sciences
Recommended Citation
Ferrie, Julianne and Charlier, Coleby, "Effectiveness of Physical Exercise in Treating Depression Versus Conventional Treatments: A Systematic Review" (2020). Student Research Poster Presentations 2020. 79.
https://digitalcommons.misericordia.edu/research_posters2020/79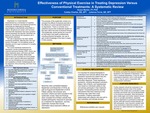 Included in
COinS