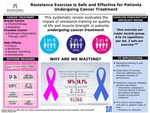 Faculty Advisor(s)
Kristen Karnish
Abstract
BACKGROUND: Breast cancer and prostate cancer are two of the most common cancers seen in females and males respectively worldwide. Treatments such as chemotherapy, radiation, and androgen deprivation therapy are essential to combat cancerous cells. However, the lasting side effects of these lifesaving treatments can impact an individual's quality of life and muscle strength without appropriate intervention. While exercise has been shown to be beneficial for patients with cancer, there is limited understanding of the effects of resistance training when performed concurrently with medical interventions.
PURPOSE: The purpose of this systematic review was to evaluate the impact of resistance training on quality of life and muscle strength in patients with breast and prostate cancer undergoing cancer treatment.
METHODS: An academic search was conducted beginning August of 2020 and ending January 2021. The databases searched consisted of PubMed, EBSCO, Academic Search Ultimate, CINAHL, and Medline. This search yielded 18 randomized controlled trials, 11 pertaining to breast cancer and 7 pertaining to prostate cancer.
RESULTS: All articles utilized a myriad of outcome measures to see changes in QoL and muscle strength. Studies evaluated resulted in either a positive short term or no improvement during the period of active intervention. However, some studies did note a lack of long-term significant differences in outcome measures between the intervention and control groups. Review of the literature did not reveal patient attrition was due to adverse effects of the intervention.
CONCLUSION: Resistance training can be a safe and effective intervention to improve quality and life and muscle strength in patients undergoing cancer treatment. Current studies demonstrate the need for physical therapists to be included in the interdisciplinary approach from the moment of a cancer diagnosis.
Department
Physical Therapy
Keywords
Breast cancer, Prostate cancer, Resistance training, Quality of life, Muscle strength
Disciplines
Physical Therapy
Recommended Citation
Carmody, Rachel A.; Logie, Evelyn S.; Larkin, Hannah J.; Yurenda, Kaitlyn E.; and Mason, Zachary M., "The Effects of Resistance Exercise Training on Quality of Life and Muscle Strength in Patients Undergoing Cancer Treatment: A Systematic Review" (2021). Student Research Poster Presentations 2021. 20.
https://digitalcommons.misericordia.edu/research_posters2021/20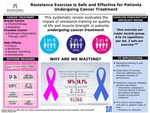 Included in
COinS