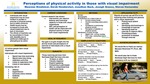 Faculty Advisor(s)
Maureen Rinehimer
Abstract
Background: Physical inactivity is a significant health issue facing the American population. This is even more prevalent in those with disabilities, such as a visual impairment. There is limited research into how persons with visual impairments perceive their own physical activity. We attempt to gain insight into this in order to better structure exercise programs for those with visual impairments.
Objective: To gain better insight into the perceptions regarding exercise and physical activity in persons with visual impairments in order to better inform healthcare and exercise professionals.
Design: This will be a 20 question survey study that will use convenience sampling to obtain participants.
Participants: Participants will be visually impaired persons receiving services from Northeast Sight Services in Northeastern Pennsylvania. At least 20 participants will be recruited.
Survey: Survey will be administered either digitally via SurveyMonkey or physically via a paper copy. There will be 20 questions utilizing a Likert scale. Questions will focus on current activity levels, comfort with exercise, confidence in performing physical activities other than exercise, and perceptions around increasing activity level.
Measurements: Descriptive statistics will be utilized to analyze results.
Limitations: Limitations could include limited geographical area, limited sample size, and limited accessibility to the survey.
Conclusions: The results could provide valuable information about how persons with visual impairments perceive exercise and physical activity. This would allow healthcare and exercise professionals to make exercise more salient to those with visual impairments.
Department
Physical Therapy
Keywords
Visual impairment, survey, physical activity
Disciplines
Medicine and Health Sciences
Recommended Citation
Hendershot, Derek; Grasso, Joseph; Hernandez, Steven; Buck, Jonathan; and Rinehimer, Maureen, "Perceptions of Physical Activity in those with Visual Impairment" (2021). Student Research Poster Presentations 2021. 52.
https://digitalcommons.misericordia.edu/research_posters2021/52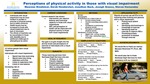 Included in
COinS