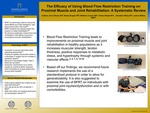 Faculty Advisor(s)
Joshua Wilkes
Abstract
Background: Blood flow restriction training (BFRT) when used with low-load exercise can improve muscular strength and recovery time in individuals attending rehab for distal extremity pathology. Current research suggests that BFRT when used proximally may elicit similar results.
Purpose: The aim of this systematic review was to analyze evidence regarding the efficacy for physical therapists to utilize BFRT for individuals attending therapy for proximal joint or trunk related injuries.
Method(s): A literature review was conducted by five reviewers using CINAHL, Medline, EBSCO, and Academic Search Ultimate. Articles were examined using the search terms (BFR or Blood flow restriction or Blood flow restriction training) and (trunk or hip or shoulder or proximal). Exclusion criteria consisted of the following: PEDRO Score < 3, publication date prior to 2010, systematic reviews or meta-analysis, and if the articles were not peer reviewed.
Results: Of the 253 results produced in the search, 11were selected and considered to be eligible. Articles were examined using the PEDro Scale and Hierarchy of Evidence Scale from the Oxford Centre for Evidence-Based Medicine. The 11 articles were then grouped into one of the following categories: BFR and the proximal UE, BFR and the proximal LE, BFR and the Trunk, or BFR and systemic effects of the UE, Trunk, or LE. Upon further evaluation we determined that BFRT when used proximally produced the following improvements: increased CSA/strength, tendon thickness, Hb transport, increased perfusion, functional capabilities, balance, endurance, and decreased pain, and positive responses to metabolic stress.
Conclusions: When used in healthy and already active populations, BFRT is a safe and effective compliment when used with exercise. Further research is required in order to determine the efficacy of using BFRT in individuals who are potential candidates for physical therapy rehabilitation. We recommend research be conducted while implementing a standardized BFR protocol in order to more consistently produce results that might further determine the efficacy of using BFRT on the proximal UE/LE and trunk for the purpose of joint/muscle rehabilitation.
Department
Physical Therapy
Keywords
Blood Flow Restriction Proximal Injuries
Disciplines
Medicine and Health Sciences
Recommended Citation
Brugler, Bailey; Wright, Tristan; Brown, Evan; Warg, Johnathan; and Cuomo, Matt, "The Efficacy of Using Blood Flow Restriction Training on Proximal Muscle and Joint Rehabilitation: A Systematic Review" (2021). Student Research Poster Presentations 2021. 55.
https://digitalcommons.misericordia.edu/research_posters2021/55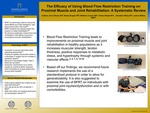 Included in
COinS