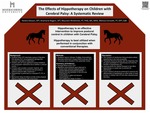 Faculty Advisor(s)
Maureen Rinehimer, Melissa Cencetti
Abstract
The Effects of Hippotherapy on Postural Control in Children with Cerebral Palsy
Study Design: Systematic Review
Purpose: The purpose of this systematic review is to summarize and evaluate the most recently published research focusing on the effects of hippotherapy on postural control in children with cerebral palsy.
Methods and Measures: Two searches of literature were performed, the first in August 2020 and January 2021, using PubMed, Academic Search Ultimate and ScienceDirect databases. Peer reviewed hippotherapy and hippotherapy simulator studies for children aged 2-25 with cerebral palsy that examined postural control were included. Articles published prior to 2010 as well as articles based on therapeutic horseback riding were excluded. The PEDro scale was used to evaluate the quality of evidence.
Results: One hundred and seventy two articles were obtained; thirteen articles met all inclusion criteria and were included in this review. Quality of evidence was good, as the average PEDro score of the selected articles was 6.07. The change of postural control was then examined.
Conclusion: A review of the current literature indicates that hippotherapy is beneficial for patients with cerebral palsy. Evidence suggests that hippotherapy can significantly improve postural control and directly influences gait, dynamic balance, functional performance, trunk stability and quality of life. Although the current volume of evidence is limited, the published results clearly demonstrate that hippotherapy has a positive impact on the postural control of children with cerebral palsy.
Department
Physical Therapy
Keywords
hippotherapy, cerebral palsy, postural control
Disciplines
Alternative and Complementary Medicine | Medicine and Health Sciences | Physical Therapy | Physiotherapy
Recommended Citation
Rogers, Anamarie and Glisson, Paisha, "The Effects of Hippotherapy on Postural Control in Children with Cerebral Palsy: A Systematic Review" (2021). Student Research Poster Presentations 2021. 67.
https://digitalcommons.misericordia.edu/research_posters2021/67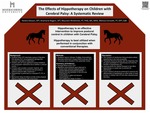 COinS