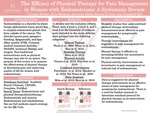 Faculty Advisor(s)
Amy Tremback-Ball
Abstract
Abstract
Background: Endometriosis is a disorder in which benign endometrial tissue grows due to atypical endometrial glands that form outside of the uterus. The disorder causes pain, excessive bleeding, dyspareunia, and may affect quality of life. Common medical treatment includes NSAIDS, hormonal therapy and surgery. Non-traditional interventions such as physical therapy may also be an option. The purpose of this review is to examine the effectiveness of physical therapy in decreasing pain and improving quality of life for women with endometriosis.
Methods: A review was performed August/September, 2020 using CINAHL Complete, PubMed, PEDro, and Academic Search Ultimate. Search terms included endometriosis, exercise, physical therapy, physiotherapy, and rehabilitation. Inclusion criteria were peer-reviewed randomized controlled trials, meta analyses, articles published in the last 15 years, and full text English. A hand search was also conducted.
Results: 11 studies met the inclusion criteria. There were 2 level 1, 2 level 2, and 7 level 3 on the hierarchy of evidence scale included in the study. Articles were grouped into the following categories: modality therapy, physical activity, manual therapy, combined intervention and meta analysis.
Conclusion: Research has shown a positive relationship between the use of combined physical therapy interventions as means of pain management for women with endometriosis. The study is inconclusive regarding use of a single intervention. The role of physical therapy for treating endometriosis needs further research to determine the best protocol for endometrial pain management.
Department
Physical Therapy
Keywords
Physical therapy and Endometriosis
Disciplines
Medicine and Health Sciences
Recommended Citation
Portaro, Courtney; Morrison, Kiley; Miller, Samantha; Di Tucci, Sabrina; and Tremback-Ball, Amy, "The Efficacy of Physical Therapy for Pain Management in Women with Endometriosis: A Systematic Review" (2021). Student Research Poster Presentations 2021. 7.
https://digitalcommons.misericordia.edu/research_posters2021/7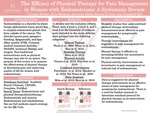 Included in
COinS