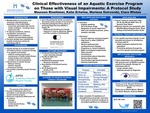 Faculty Advisor(s)
Maureen Rinehimer
Abstract
BACKGROUND/PURPOSE: Visual impairment impacts an individual's ability to participate in certain activities, like exercise. Often, individuals with visual impairment have difficulty maintaining an active lifestyle, possibly due to potential harm without assistance. Research on the use of aquatic therapy as a form of exercise in those with visual impairment is lacking. The purpose of this study is to determine if this population can tolerate and benefit from an aquatic exercise program. Additionally, this study serves to determine effects of aquatic exercise on cardiovascular fitness, functional strength, and overall quality of life in individuals with visual impairment.
METHOD(S): This is a quasi-experimental study evaluating participants with visual impairment aged 30-80 years, recruited from Northeast Sight Services in Exeter, PA. Up to 20 participants will be guided by physical therapy students and a primary researcher through a biweekly, eight-week aquatic therapy program at the Misericordia University Anderson Center Pool. This study will utilize a pretest/posttest design to collect outcome measures. These include the 6-Minute Walk Test, 30 Second Chair Stand Test, Borg Rating of Perceived Exertion, the Modified Borg Dyspnea Scale, and the SF-36.
DISCUSSION: If this program is tolerated in this population, the results could provide rehabilitation specialists an opportunity to promote health through aquatic programs for those with visual impairment. Further, if aquatic exercise is shown to be effective in improving lower extremity strength, cardiovascular endurance, and quality of life in participants, it will suggest aquatic exercise is a feasible intervention to be used with this population.
Keywords: aquatic therapy, visual impairment, blindness, hydrotherapy, quality of life
Department
Physical Therapy
Keywords
aquatic therapy, visual impairment, blindness, hydrotherapy, quality of life
Disciplines
Alternative and Complementary Medicine | Other Rehabilitation and Therapy | Physical Therapy | Physiotherapy
Recommended Citation
Winton, Clare; Ertwine, Kalie; Ostrowski, Marlena; and Rinehimer, Maureen, "Clinical Effectiveness of an Aquatic Exercise Program on Those with Visual Impairments: A Protocol Study" (2022). Student Research Poster Presentations 2022. 10.
https://digitalcommons.misericordia.edu/research_posters2022/10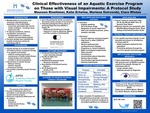 COinS