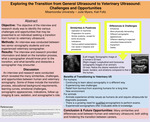 Faculty Advisor(s)
Amanda Montgomery
Abstract
Objective: The objective of the interview and research study was to identify the various challenges and opportunities that may be presented to an individual seeking a transition from human to veterinary ultrasound.
Methods: An interview was conducted between two senior sonography students and one experienced veterinary sonographer.
Results: The interview and research provided information and detail on the transition process, what a sonographer should know prior to the transition, and what benefits and obstacles a sonographer may encounter.
Department
Diagnostic Medical Sonography
Keywords
ultrasound, transition, veterinary ultrasound
Disciplines
Interprofessional Education | Medicine and Health Sciences | Veterinary Medicine
Recommended Citation
Foltz, Kali and Myers, Juliette, "Exploring the Transition from General Ultrasound to Veterinary Ultrasound: Challenges and Opportunities" (2023). Student Research Poster Presentations 2023. 22.
https://digitalcommons.misericordia.edu/research_posters2023/22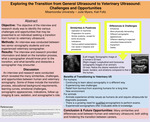 COinS