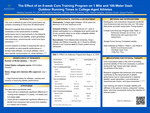 Faculty Advisor(s)
Melissa Cencetti
Abstract
The Effect of an 8-week Core Training Program on 1 Mile and 100-M Dash Outdoor Running Times in College-Aged Athletes
Background:
The core provides proximal stability of the trunk which enhances power production and strength with distal limb movement. With almost half a million NCAA athletes in the United States, in a high-revenue industry, there is a strong incentive for athletes, coaches and industry alike to discover strategies to improve athletic performance. Available literature has studied the correlation between increasing core strength and the augmentation of balance and stability, power generation, core endurance, neuromuscular control and injury prevention. However, these studies are limited in females>males and in sports specific environments.
Objective:
The objective of this study is to investigate the impact of an 8-week core training program on the outdoor running performance of college-aged athletes, specifically their 1 mile and 100-meter dash times. The study aims to determine whether incorporating a core training program into the regular training regimen of college-aged athletes will lead to significant improvements in their running times.
Methods:
Participants:Participants include male and female college-aged athletes between the ages of 18 and 25 years of age and must either have a minimum of 1 year of athletic participation on a collegiate-level sports team or currently be listed on an active collegiate athletic roster. Additionally, inclusion criteria includes only English-speaking participants secondary to lack of resources for adequate translation. Recruitment: Participants are recruited from three local college campuses, Misericordia University, King's College, and Wilkes University on a volunteer basis via the use of flyers being posted in buildings around campus and emails that will be sent to athletic directors and coaches. Program Interventions: Following initial data collection (week 0), participants complete an 8-week core endurance program. Participants complete an exercise log following each training session and survey. The program is completed 3 times per week and lasts approximately 45 minutes, 30 minutes for exercise and 15 minutes for logging data at the end of each week.
Procedures:
Participant data for the 100 Meter dash and 1-Mile run and core endurance collected at pretest (week 0), mid-test (week 4) and posttest (week 8) utilizing Dashr Timing System and McGill Core Endurance test, respectively. The running assessments take place at Mangelsdorf field at Misericordia University (Dallas, PA) on an NCAA approved outdoor running track. The McGill core endurance tests consist of three exercises completed within a series and includes the following: a trunk flexor endurance test, a trunk lateral endurance test (on both sides), and a trunk extensor endurance test. Following data collection, participants perform an 8-week core training program 3X/week with two sessions performed as a home exercise program and one session performed with the researchers at the University. Over the course of the training program the subjects will complete weekly check-ins, one time per week via the online google survey, to ensure they are completing exercises with the intended form and intensity.
Hypothesis:
Based on prior studies we hypothesize that by increasing the strength and endurance of the core musculature there will be a decrease in the amount of time it takes to complete a 100-meter sprint and a 1 mile run, an increase in core strength, and a negative correlation between core strength and running times.
Results/Conclusion:
To be determined.
Department
Physical Therapy
Keywords
athletics, McGill, running performance, core strength, core endurance
Disciplines
Medicine and Health Sciences | Rehabilitation and Therapy | Sports Sciences
Recommended Citation
Hromisin, Kelcie; Wagner, Robert; Tirro, Anthony; Orzell, Zachary; Moore, Cydney; Prentice, James; and Cencetti, Melissa, "The Effect of an 8-week Core Training Program on 1-Mile and 100-Meter Dash Outdoor Running Times in College-Aged Athletes" (2023). Student Research Poster Presentations 2023. 4.
https://digitalcommons.misericordia.edu/research_posters2023/4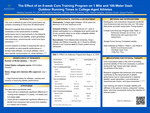 COinS