Title
Creator
Argust, Gertrude (1891-1914)
Preview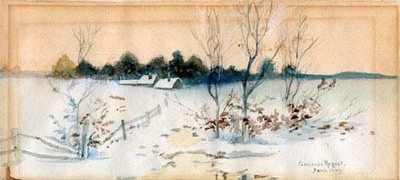 Description
Gertrude M. Argust graduated from the Wilkes-Barre City Hospital Training School of Nursing in the Class of 1912. Argust was an accomplished watercolorist.
Source
Digital image gift of Harold V. Hartley, Jr.
Location
Wilkes-Barre (Pa.)
Repository
Sister Mary Carmel McGarigle University Archives, Misericordia University, Dallas, PA 18612
Rights Statement
The copyright and related rights status of this Item has not been evaluated. Unless expressly stated otherwise, the Sister Mary Carmel McGarigle University Archives and Misericordia University make no warranties about the Item and cannot guarantee the accuracy of this Rights Statement. Use of materials from this collection beyond the exceptions provided for in the Fair Use and Educational Use clauses of the U.S. Copyright Law may violate federal law. Permission to publish is required from the copyright holder. Any materials used for academic research or otherwise should be fully credited with the source. The original creators may retain copyright to the materials. If you are the copyright owner and have concerns about any item, or if you have additional information about an item, please contact us at [email protected].