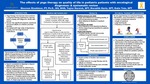 Faculty Advisor(s)
Maureen Rinehimer
Abstract
Background: Yoga therapies have become more common as physical therapy treatment to improve mood, anxiety, and fatigue in adolescents and adults with cancer. A cancer diagnosis has physical, emotional, and social effects on children and their families. It is correlated with high rates of depression and anxiety, and has large financial implications for parents/guardians.
Study design: Systematic review
Purpose: This purpose of this study was to examine the effects of yoga therapy on overall quality of life in treatment of patients with a pediatric oncology diagnosis.
Methods and Measure: A review of literature took place in January 2021 using the Pubmed, Academic Search Ultimate, CINAHL Complete, and MEDLINE. Nine studies met inclusion criteria and were grouped according to session frequency: multiple sessions per week, one session per week, and single yoga session studies.
Results: The most effective treatment frequency was found to be one session each week. Yoga treatment as a component of inpatient cancer treatment may be the most effective treatment setting.
Conclusion: The benefits of yoga in improving cancer related symptoms for adults has been confirmed and studied extensively. This systematic review revealed that yoga may have similar effects in the pediatric cancer population through improvements in mood, anxiety, and fatigue. Future research is needed to develop appropriate exercise prescriptions for the use of yoga therapy as a physical therapy intervention for children with cancer.
Department
Physical Therapy
Keywords
yoga, mindfulness, quality of life, pediatric oncology, pediatric cancer or childhood cancer, children with cancer, physical therapy
Disciplines
Other Rehabilitation and Therapy | Physical Therapy
Recommended Citation
Tota, Katherine; Harnish, Taylor; and Hartz, Meredith, "The Effects of Yoga Therapy on Quality of Life in Pediatric Patients with Oncological Diagnoses: A Systematic Review" (2021). Student Research Poster Presentations 2021. 9.
https://digitalcommons.misericordia.edu/research_posters2021/9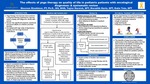 COinS