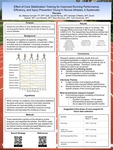 Faculty Advisor(s)
Melissa Cencetti
Abstract
Abstract:
Background: For years there has been a debate on the importance of proper running mechanics & its effect on athletic performance and injury prevention. Many argue that running is a natural motion, & athletes will instinctively adopt the most efficient running form. However, research suggests that since running is a complex full body movement, technique can affect performance and the occurrence of injury. Muscle activity imbalances & altered activation patterns are associated with potential injuries and decreased running economy, which is explored further in this review. The purpose of this systematic review is to examine the effects of core stabilization & strengthening exercises on running dynamics in novice athletes (12-25). The role of core stabilization in potential injury prevention strategies is also explored.
Methods: A literature search was completed in September 2021 and January 2022 using PubMed and CINAHL Complete. Articles included in the systematic review were analyzed for quality based on the PEDro scale & level of evidence scale.
Results: Nine articles were chosen based on the following criteria: publication 2011 - present, novice athletes (12-25), & articles that examined the relationship between core stabilization and running dynamics or risk of injury in athletes. Three additional articles were identified through a hand search. All articles were experimental, & had an average score of 5.58/10 on the PEDro scale, & ranged from Level II- Level IV on a hierarchy of evidence scale.
Conclusion: To date, the current literature on the effect of core strength or core stabilization for running performance & injury prevention has been inconclusive. No firm conclusions can be drawn on the effectiveness of core stabilization/strengthening on running performance or injury prevention. This review identifies the need for continued research in the realm of core stabilization, core strength training, and its relationship with running performance and injury prevention.
Department
Physical Therapy
Keywords
core musculature, stabilization, running performance, efficiency, injury prevention
Disciplines
Medicine and Health Sciences
Recommended Citation
Cencetti, Melissa; Reeder, Sarah; O'Malley, Ashleigh; Roberts, Levi; Woolcock, Trent; Romaine, Ryan; and Murray, Garrett, "Effect of Core Stabilization Training for Improved Running Performance, Efficiency, & Risk of Injury in Young Novice Athletes: A Systematic Review" (2022). Student Research Poster Presentations 2022. 20.
https://digitalcommons.misericordia.edu/research_posters2022/20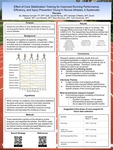 Included in
COinS