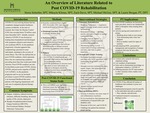 Faculty Advisor(s)
Laurie Brogan
Files
Abstract
Objective: To complete a systematic search of available research on the role of physical therapy (PT) with managing post COVID-19 related conditions and common symptomatology in adults in the outpatient PT setting.
Data Sources: PubMed, CINAHL, Medline, Cochrane, Hand Searches
Study Selection: Searches were conducted to examine current data related to PT interventions and their effectiveness for treating post COVID-19 conditions in outpatient clinics. Articles were examined by researchers and evaluated for relevance based on the following criteria: articles in English, original peer reviewed articles, adult population (over 18), relevant PT interventions for rehabilitation, post-acute infection of COVID-19.
Data Extraction: Articles were reviewed and analyzed for relevance to implications regarding post-COVID-19 and potential PT rehabilitation interventions. Interventions were assessed in feasibility and applicability to an outpatient clinic setting. Articles were examined for content regarding the latest updates on disease criteria, manifestations, new classifications, and cohorts emerging as the pandemic progresses.
Data Synthesis: After article analysis, the findings include a key theme that PT services helped improve overall functional mobility and symptom management in patients after an infection of COVID-19. A combination of pulmonary rehabilitation, strength and aerobic training, and interval training have been shown to improve quality of life and manage residual symptoms of COVID-19.
Conclusion: PT has a growing role in the management of post COVID-19 deficits as well as implications related to long covid sequelae. By choosing the appropriate parameters and using available knowledge with current research, practitioners can improve patients' functional mobility by helping resolve current conditions such as shortness of breath and fatigue. The focus of future studies should include more specific interventions and parameters related to managing the condition and finding the most effective treatment strategies.
Department
Physical Therapy
Keywords
post Covid, post acute Covid, physical therapy or physiotherapy
Disciplines
Medicine and Health Sciences
Recommended Citation
McGee, Michael; Davis, Zachary; Klimas, Mikayla; and Schertler, Sierra, "An Overview of Literature Related to Post COVID-19 Rehabilitation" (2022). Student Research Poster Presentations 2022. 38.
https://digitalcommons.misericordia.edu/research_posters2022/38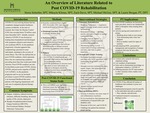 Included in
COinS